Introduction
Roblox is an online gaming platform that allows users to create, share, and play games with others in a virtual world. The platform has grown to become one of the largest gaming platforms in the world, with millions of active users.
Roblox allows users to create their own games and experiences using the platform's proprietary game development tools. Creating a game in Roblox can be an exciting and rewarding experience, but it requires some effort and knowledge of the platform.
Users can also play games created by other users on the platform, which vary from simple puzzle games to complex shooting or role-playing games and simulations. In addition, Roblox has a thriving social community, with users able to chat, make friends, and form groups to play games together. 

Step 1: Get started with Roblox Studio
To create games in Roblox, it has a tool which is called Roblox Studio that provides a user-friendly interface for creating game environments, designing characters and objects, scripting game, testing and debugging games, and more. To start using it, you need to create a Roblox account on the website, download and install Roblox Studio on your computer or laptop. You can open the Roblox Studio app that you installed or you can click on the "Create" tab on the Roblox website.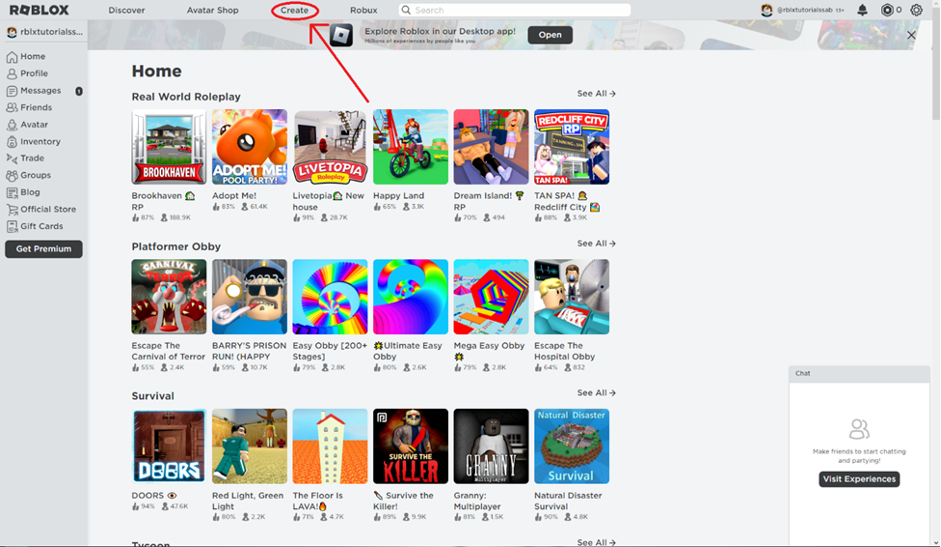 Then just click on the "Start Creating" option to start working on your first project.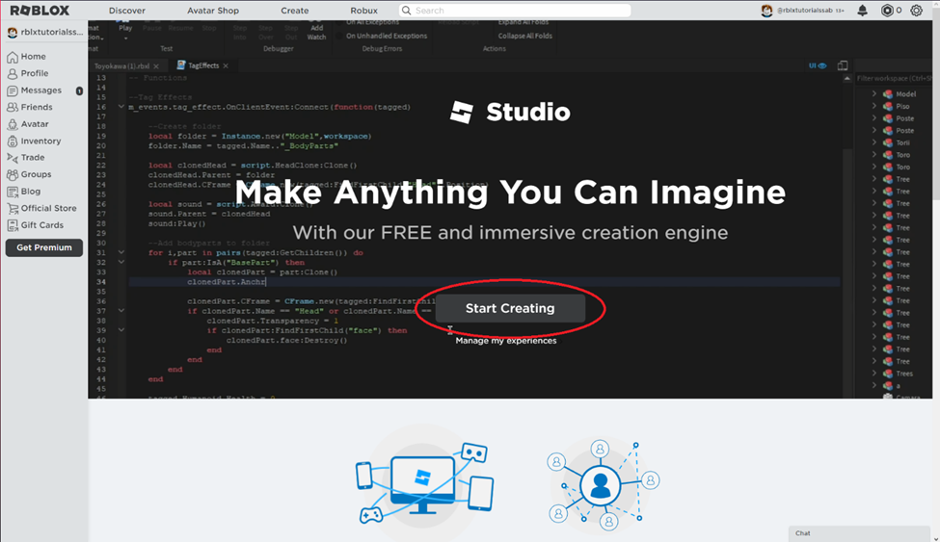 Step 2: Choose a game type
Roblox offers various game templates, such as obstacle courses, concerts, tycoons, simulators, and many more. After clicking the "Start Creating" button, select "New". There, you can see all of the templates that have been offered and you can choose from any of these templates that best matches your requirements, it will help you to create the game and it will make the creation process much faster.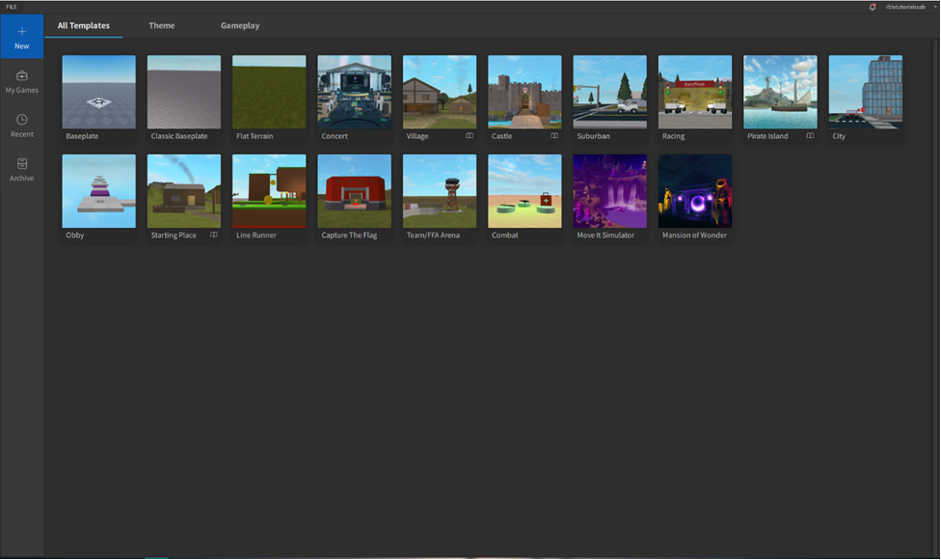 Step 3: Customize your game
Once you have chosen a game template, this will be your screen.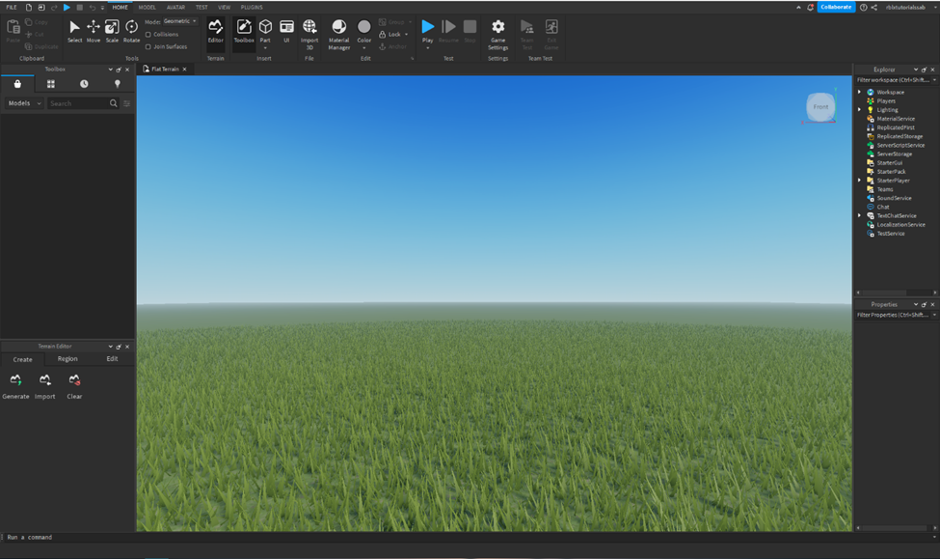 Now that you have selected the template that best suits you, it's time to customize it to make it your own. You can add custom graphics, sounds, and scripts to create unique gameplay mechanics. To customize your game, you can use the tools available in Roblox Studio, such as the asset library, terrain editor, and code editor. With the help of these tools and your unique ideas, your game can be very fun and challenging for the players.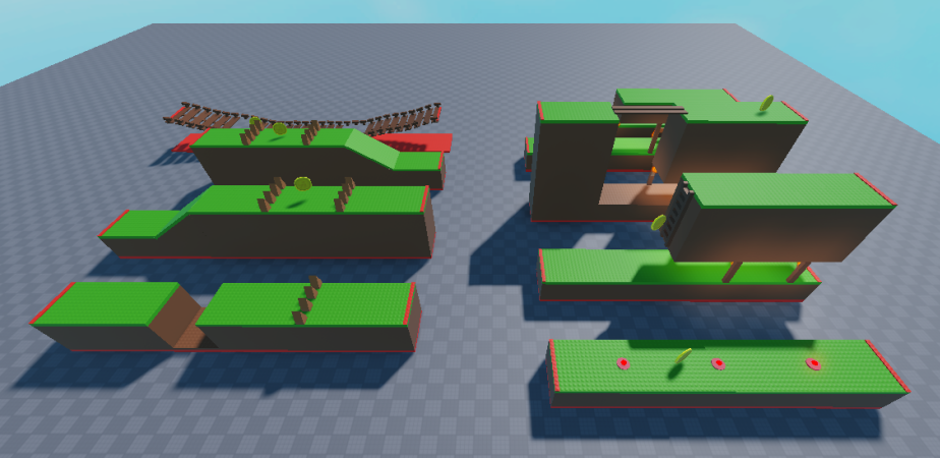 Step 4: Test your game
Before publishing your game, make sure to test it to ensure that it is working smoothly without any bugs. To test your game, click on the "Play" button in Roblox Studio. This will launch your game in Roblox's virtual world, where you can play it and see how it works and feels. You can also invite friends to test your game and provide feedback.
Step 5: Publish your game
Once you have got the game that you wanted and are happy with it, you can publish it on the Roblox platform. To publish your game, go to the "Create" tab in Roblox Studio and click on the "Publish to Roblox" button. You can add a game description, thumbnail, and tags to make your game more discoverable and attractive to the Roblox community.
Step 6: Promote your game
Publishing your game is not the last step to a successful game. To make your game successful, you need to promote it to the Roblox community. You can do this by sharing your game on social media, and engaging with the Roblox community. You can also participate in Roblox game jams and competitions to get more exposure for your game.

Conclusion
Making a game in Roblox is an exciting experience that anyone can try, regardless of their skill level. With Roblox Studio, the process of creating a game is made easier with its user-friendly interface and wide range of tools. By following the above six steps mentioned in this article, you can create a game from scratch using Roblox Studio, customize it, test it, and publish it for the Roblox community to enjoy.
Choosing a game type is the first step in creating your game, and Roblox offers a range of templates to suit your vision. With the option to customize graphics, sounds, and scripts, you can make your game unique and engaging. Testing your game is crucial to ensure it's running smoothly and works as intended. Inviting friends to play and give feedback will help you notice the minor details that you might overlook.
When you are satisfied with your game, it is time to publish it on the Roblox platform. Roblox offers several promotional tools such as social media sharing, and engaging with the community to help you gain visibility for your game. Participating in Roblox game jams and competitions is an excellent way to gain exposure and attract players towards your game.
Making games in Roblox is a fantastic way to develop your creativity and programming skills while having fun. Roblox Studio provides an easy-to-use platform with many possibilities for customization to make it unique. Whether you are a beginner or an experienced developer, Roblox offers a welcoming and supportive community to help you along the way.
Learn to create and publish games on Roblox Studio. Codingal offers online 1:1 coding classes for Roblox coding course with expert Computer Science teachers.
You will learn the foundation of Computer Science using Lua programming, create engaging 3D games with Roblox and become an expert in Roblox.