Coding is increasingly becoming an essential 21st century skill. So if you are thinking of teaching your child to code, here are the top 10 coding resources for kids in 2022.
Introduction
There has never been a better time than now to pick up and master the most essential 21st Century skill: coding.
The internet is rife with all kinds of resources for kids to learn coding including videos, blogs, online communities, DIY worksheets, quizzes, competitions etc.
If you are thinking of teaching your child to code, you may actually be spoilt for choice given the vast number of learning resources and options ready at hand.
To help you get started, we've shortlisted the top 10 coding resources for kids in 2022.
Scratch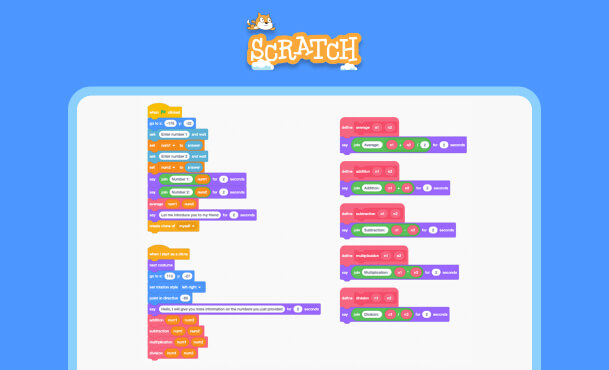 Developed by the MIT Media Lab, Scratch is a block-based visual programming language and website for kids.
The mission of Scratch is to help young people learn to "think creatively, reason systematically, and work collaboratively".
Scratch is one of the best coding resources for kids that helps kids learn coding and offers numerous benefits for kids, check out our article on the benefits of learning Scratch for kids to find out more.

Scratch can be used to create games, animations, text, stories, music and more by simply using blocks of code. Kids can create projects using the highly engaging interface, which is divided into three sections: the stage area, the block palette, and the coding area.
Scratch is popular with schools, museums, libraries, community centers and home users. The primary age range for Scratch is 8 to 16, but there are modules that teachers and parents can use to learn about programming too.
Minecraft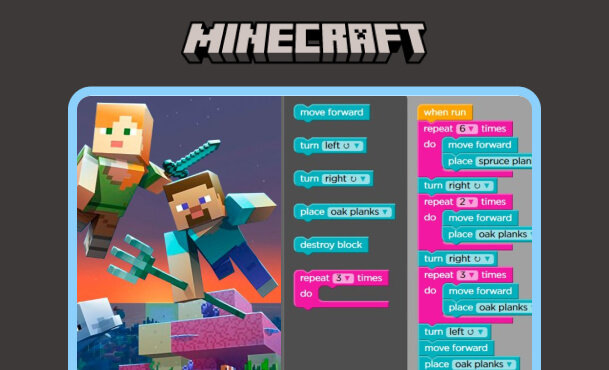 Minecraft is a game-based application that allows you to enter, create, modify, and destroy your own world. The unique characteristic of this game is that it allows you to build various elements of the game only using blocks.
Minecraft: Education Edition includes several features that support collaboration and help educators create more inclusive classrooms, whether students are learning in-person or remotely.
Minecraft is one of the most engaging coding resources for kids. It is a game-based learning platform that promotes creativity, collaboration, and problem-solving in an immersive digital environment.
The advantages of learning to code with the Minecraft: Education Edition include problem-solving, creativity, and collaboration.
With Minecraft, it's possible to learn and build along with your friends. Creating different worlds with your friends builds the virtue of collaboration.
To learn more about how Minecraft can be a great resource to learn coding, read our blog on learning to code with Minecraft: Education Edition.
Code.org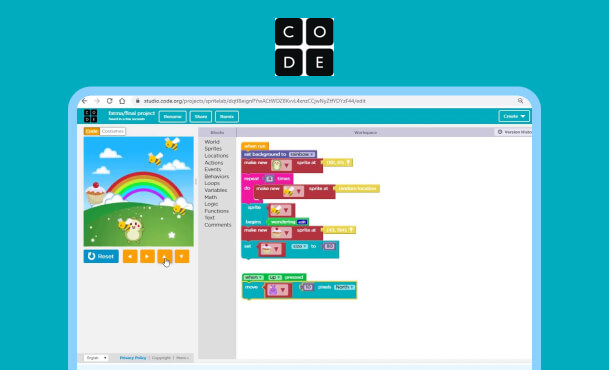 Code.org is a nonprofit foundation that has a vision that "every student in every school has the opportunity to learn computer science".
Among the top coding resources for kids, the majority of Code.org students are children, indicating they are doing important work to diversify STEM education.
All of the curriculums and software on the website are offered free of charge and licensed under a Creative Commons license.
The curriculums are broken up by age groups. Kids can learn to make their own games or build working apps using blocks, CSS, HTML, or Javascript.
The Express Course is particularly helpful for older students who are new to computer science but have no trouble with reading or writing.
Machine Learning for Kids (IBM)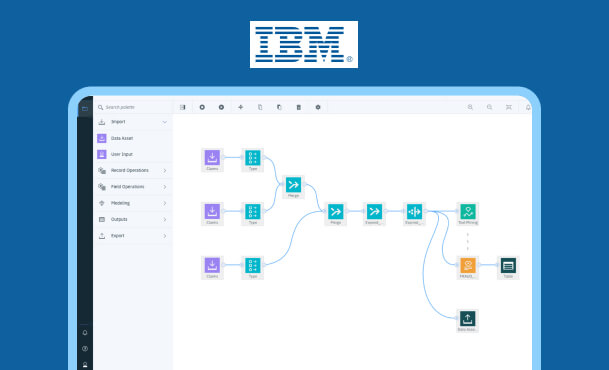 Machine Learning for Kids introduces simple machine learning models to students through games and interactive projects by allowing children to choose from a variety of hands-on activities.
Among the most interesting coding resources for kids, Machine Learning for Kids offers a completely free activity kit with games and interactive projects designed by IBM. The games are designed to help teach kids to build simple machine learning models.
The activity kit by IBM not only introduces kids to the principles and applications of machine learning and artificial intelligence but also allows students to play with data and seek answers from machines.
The activity kit has over two dozen activities and games for kids of different age groups.
Microsoft's MakeCode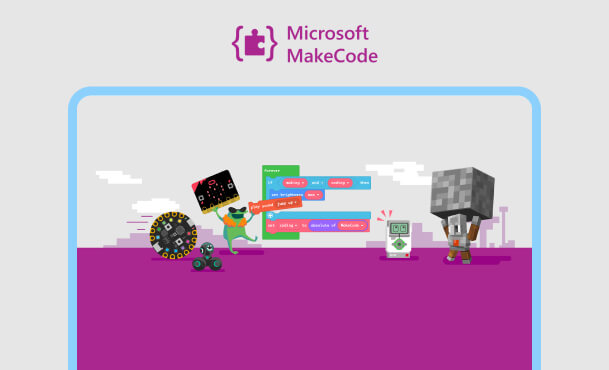 Microsoft's MakeCode is a great free resource for kids to learn coding.
MakeCode is a great place for your child to watch tutorials and access other coding resources to learn how to use the interface and how to get started creating projects.
Microsoft's MakeCode is a great coding resource for kids and allows your child to program three different ways depending on their comfort level.
The tutorials offered on the Makecode website along with other coding resources for kids are engaging and offer complete flexibility for your child to try out different programming languages.
Hopscotch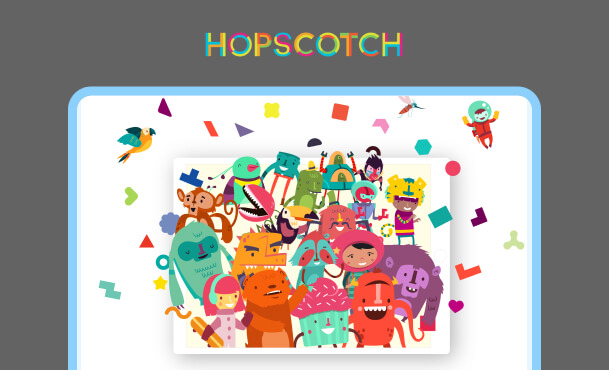 Hopscotch is a nifty mobile app that allows students to access coding resources for kids and build projects and games.
Your child can build their own projects from scratch or they can follow screencast guides to learn how to create their own replicas of projects!
Hopscotch also has a helpful YouTube channel and community forum to ask questions and share tips on projects.
CS Unplugged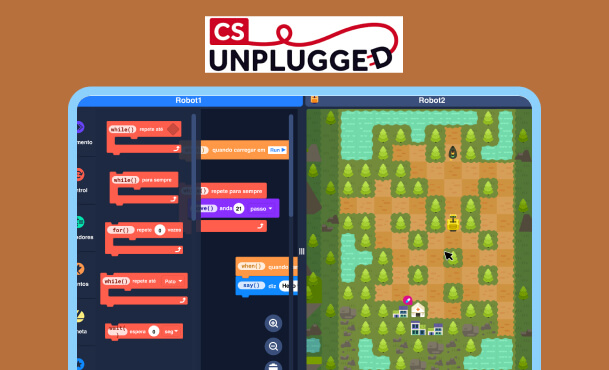 CS Unplugged is the answer for parents who are concerned about screen time, but also want their children to practice their coding skills.
This is a wonderful place to access coding resources for kids because it focuses on the logical foundations of coding rather than the code itself. The creators have written a book that you can download for free that houses all of the lessons and resources your child needs.
CS Unplugged also has a Google group and YouTube channel to help you learn more about the lessons and to collaborate with other parents or educators using this curriculum.
Thimble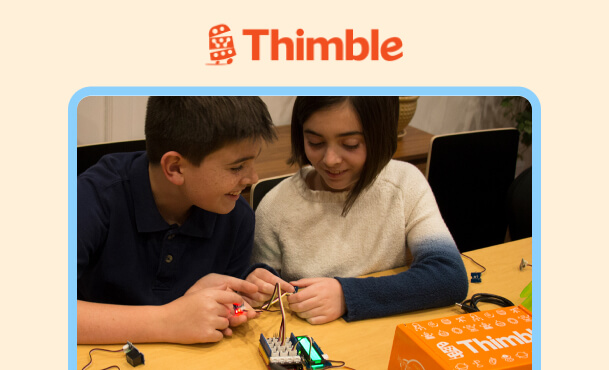 Thimble allows students to design their own web pages in HTML, CSS, and JavaScript, the focus of our Levels 3 and 4, through an online code editor.
Students can make posters, postcards, comics, automatic haiku generators and even full websites through Thimble!
Among the top coding resources for kids, Thimble helps bridge the gap between computational thinking, visual coding knowledge, and full text-based coding.
Unity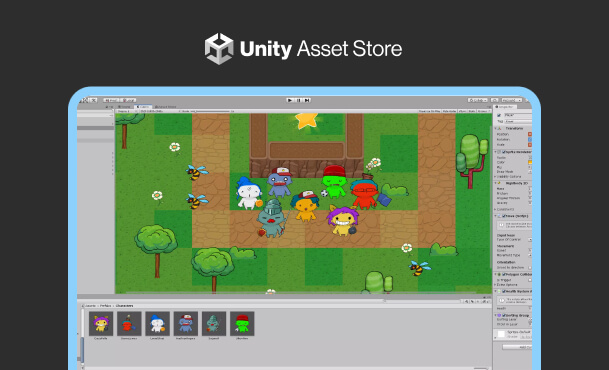 Unity is a great coding resource for kids to learn to create with code as they program their own exciting projects from scratch in C#.
Unity allows kids to iterate with prototypes, tackle programming challenges, complete quizzes, and develop your own personal project, helping them transform from an absolute beginner to a capable C# developer.
By the end of the course – if you are completing it through a school program – you will also be ready to put your skills to the test on the Unity Certified User Programmer Exam. Most importantly, though, when you complete this course, you will have the confidence that you can Create with Code.
Codingal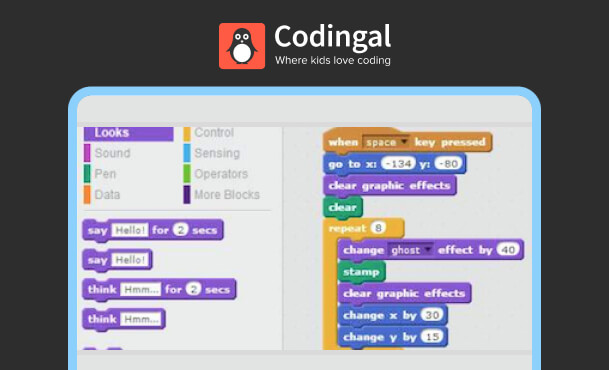 Codingal is on a mission to make kids fall in love with coding.
Codingal offers free access to numerous coding resources for kids including coding videos, coding lessons, DIY worksheets, etc. to help kids learn coding at their own time.
Coding for kids helps in building resilience at a young age.

Codingal also offers coding quizzes and online coding competitions for kids to put their coding skills and knowledge to the test in a competitive environment.
While online coding resources can help you get started with teaching coding to your kids, the best way to teach kids to code is by signing up for a guided and personalized online coding course for kids.
Codingal's courses are designed to teach kids to create app, games, websites, and more while also improving their performance at school with STEM-based projects and activities.
Our teachers are all trained to ensure effective learning by matching the style and pace of learning to suit your child.
Book a free class today to see for yourself.