Scratch is a free block-based coding platform for kids. The fun and interactive interface helps kids create Scratch projects such as stories, games, animations, and much more. Here are 10 best Scratch projects for kids to get started.
Introduction
Scratch is the world's largest coding community for children and a block-based coding language. Its simple visual interface allows kids to create digital stories, games, and animations.
As children create with Scratch online, they learn to think creatively, work collaboratively, and reason systematically. Scratch for kids promotes computational thinking, problem-solving skills, self-expression and collaboration.
What is Scratch?
Scratch is one of the best ways for kids to learn to code. It involves dragging and dropping code blocks instead of writing code while children still learn coding logic.
Blocks are puzzle-piece shapes that are used to create code in Scratch. There are ten categories of blocks: Motion, Looks, Sound, Event, Control, Sensing, Operators, Variables, List, and My Blocks.
Scratch has four main elements: the stage, the sprites, the script and the programming/blocks palette.
The stage is where you see your stories, games, and animations come to life. In Scratch, each character is called a sprite.
Script is the set of step wise instructions that you give to the sprite to do a particular task. Programming/block palette contains all the essential tools which are required to program a sprite to do or say something.
In Scratch, a program is saved as a project. Kids can get started with creating a Scratch projects in three simple and easy steps.
First, you need to sign up on the Scratch website. Next, explore the "ideas" section to access the getting started tutorial. Later, create your first project using Scratch.
In this blog, we will explore some interesting Scratch projects for kids. So read on to find some innovative project ideas and try out these starter projects.


Maze Starter
Click the green flag to start
Maze Starter is a fun Scratch project where you move a ball to reach the goal using the arrow keys on your keyboard. You can customise the game by adding more obstacles and constructing new levels.
It also includes the functionality for score-keeping: you collect rewards for choosing the correct path, subtract points for hitting walls, and so on.
Create your own version of Maze Starter project.
DJ Scratch Cat
Click the green flag to start
DJ Scratch Cat is a music-based Scratch project that lets you mix sounds and graphics. As per the instructions on the Scratch website, you press V, B, N, or Z, X, C to play with sounds.
You can explore new tunes and keys or place another DJ inside the setup instead of Scratch Cat.
Create your own version of DJ Scratch Cat.
Animate the Crab
Click the green flag to start
In this Scratch project, you can create a basic animation by changing the expression of the crab. Furthermore, you can discover endless possibilities by adding more characters, changing the background, and so on.
Create your own version of Animate the Crab.

Hide and Seek
Click the green flag to start
Hide and Seek is a Scratch project centred around a character named Gobo. You will have to click on Gobo to score points. You can add a timer or change what happens upon catching Gobo. Another way to remix the project is to make more sprites similar to Gobo.
Players will have to catch all the characters to win the game. To increase the difficulty level further, you can shorten the length of time for which your characters appear on the screen.
Create your own version of Hide and Seek project.
Starfish Choir
Click the green flag to start
It's a music-themed, fun Scratch project. You can add a several Starfish to your project and assign a different sound to each of them.
When you continuously click on the Starfish one after another, it sounds like a choir. You can remix this project with different characters, backdrops, and sounds.
Create your own version of Starfish Choir project.
Greeting Card
Click the green flag to start
It's an animation based Scratch project where you get to create a greeting card and send it to someone. You can edit your card for different occasions, change pictures as per the theme, and place animated graphics inside the card.
It is an enjoyable activity that combines computational thinking with visual creativity. This project will also bring out your creativity and refresh your mind!
Create your own version of Greeting Card project.
Virtual Tour
Click the green flag to start
This is a story animation based Scratch project that lets you design a virtual tour of your school, home, surroundings, etc. You can highlight your favourite places in an attractive slideshow.
For example, the Scratch Team has put together images from their actual workspace to create a sample project. You can replace the slides with other images or showcase your favorite images in your remixed version.
Create your own version of Virtual Tour project.

SoundFlower
Click the green flag to start
SoundFlower is an interactive art Scratch project that changes its shape when you make a sound. It requires microphone permission to showcase its magic.
Go for this one if you want to explore the intersections of music with visuals. Check out other remixes to draw insights and progress to complex projects as you gain confidence with the language and features.
Create your own version of SoundFlower project.
Spiral Maker
Click the green flag to start
As the name suggests, this open-source Scratch project is about drawing spirals. You need to click on the mouse to perform the tasks.
The project instructions also mention some remix tips, such as changing the width of the pen, making spirals of different sizes, altering the pen color, and drawing new shapes.
Create your own version of Spiral Maker project.
Dance Party
Click the green flag to start
This Scratch project lets you curate your dance party. Pick from different options, add sprites (images created in Scratch), and have fun with the interface. You can also view others' creations, learn from the samples, and remix your own version.
Create your own version of the Dance Party project.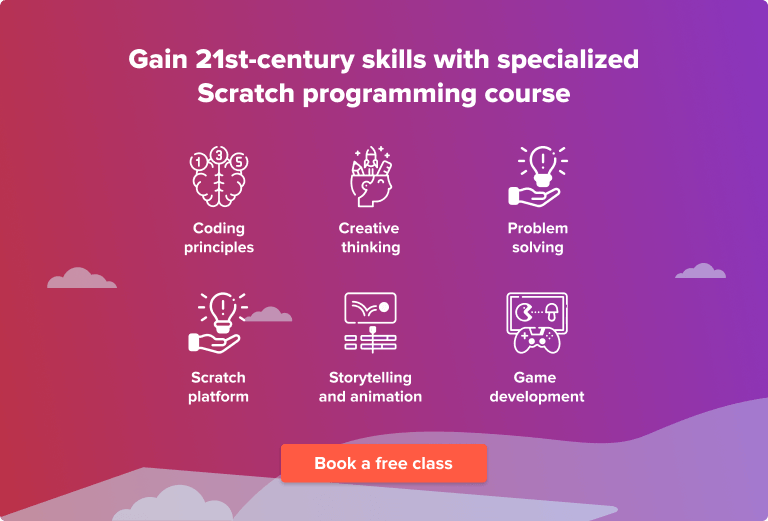 Conclusion
You have now explored the fun and interactive Scratch projects for kids. You can now create your own Scratch projects, share your creations with others, and seek suggestions from an active online community.
Scratch for kids is an excellent block-based coding platform to build 21st-century skills, such as systematic thinking, creativity, and collaboration.
It's the perfect pathway for kids to learn programmatic thinking and get an enthusiastic head start into real-world coding skills.
The best way to gain these skills is by enrolling on a specialized Scratch online course.
Codingal's focused Scratch programming course for kids will help you master the essential principles of coding for kids, including events, coordinates, loops, sequences, sprites, animation, and much more.
The course will also help you develop other essential skills, including creative thinking, problem-solving, and storytelling.
So go ahead and sign up for the specialized Scratch programming course and bring your creative imagination to life.