Introduction
In the emerging age of technology, children are turning to the internet to learn new things. There are loads of websites that help you learn new skills through blogs, tutorials, videos, and community interactions.
This is especially true when it comes to learning one of the most important skills of the 21st century: coding.
Thanks to educational websites for kids like Codingal, Codeacademy, Scratch, etc., young coders across the world can now master coding and be part of the growing community of online learners.
So if your child wants to learn coding and build apps, games, websites, and more, these days there are plenty of educational websites to teach them these amazing new skills.
This blog lists out the 10 best educational websites for kids to learn coding where they can choose to learn game development, app development, website development, algorithms, and gain new skills online.
Let's take a look.

Websites for kids to learn game design
mBlock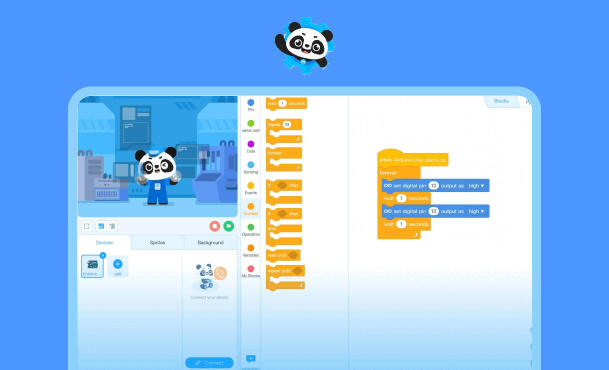 mBlock is a visual programming platform that helps kids get introduced to game design and story animations. The website has a bunch of knowledge resources and projects to help you get started with block-based games.
Although mBlock coding is based on Scratch (another block-coding platform), kids can switch the blocks to traditional Python coding. It has advanced features like AI blocks for kids to build sophisticated games.
Here's a quick video guide on creating your first project on mBlock.
Stencyl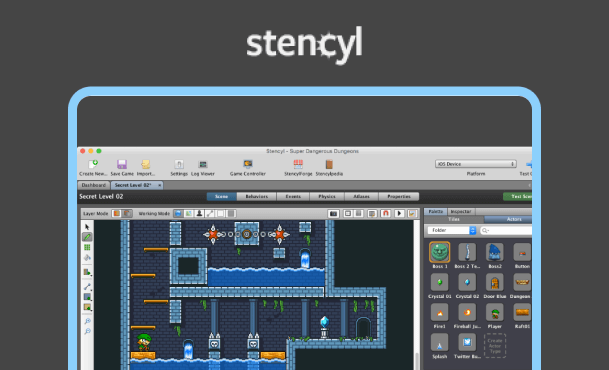 Stencyl is yet another block-based platform to help you create 2D designed build games for both mobiles and desktops. And the best part – professional game developers also use this program.
The advantage of learning Stencyl is that it introduces the kids to the real-world process of publishing games and work on removing bugs from current versions. It is possible to publish your games on Appstore, Playstore, Windows, etc.
Here's a quick video guide on building your first game on Stencyl.
Unity Playground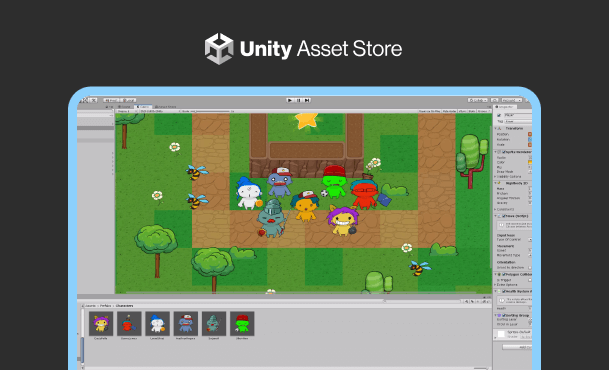 Unsure whether coding a game is your jam or not? Unity Playground has come to your rescue. Compared to introducing kids to game design with block-coding, this platform allows kids to attach components with pre-made functionality to objects.
Kids have the ability to modify the components with different speeds, health, etc. This way you can learn to build different variables involved to code a game while learning C# in the background of it.
Here's a quick video guide on how to build games on Unity Playground.
Websites for kids to learn app development
Code.org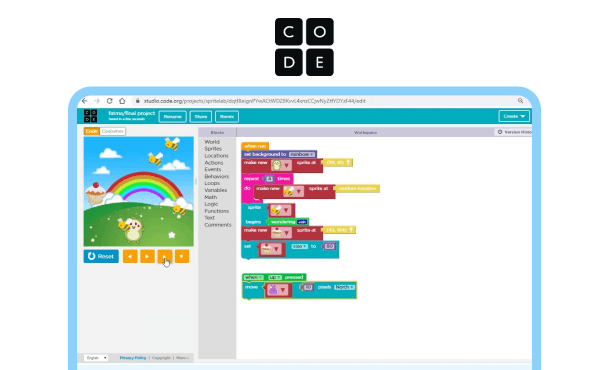 Code.org is a non-profit organization that teaches kids the fundamentals of computer science. They organize annual Hour of Code that takes them through different activities. One of the modules of the program is App Lab.
In the App Lab courses, kids learn basics of app development with the help of puzzles, quizzes, community, etc. Although you build your apps on block-based coding for kids, you have the option to see the code in text-based languages as well.
Check out the elementary courses available in their program.
MIT App Inventor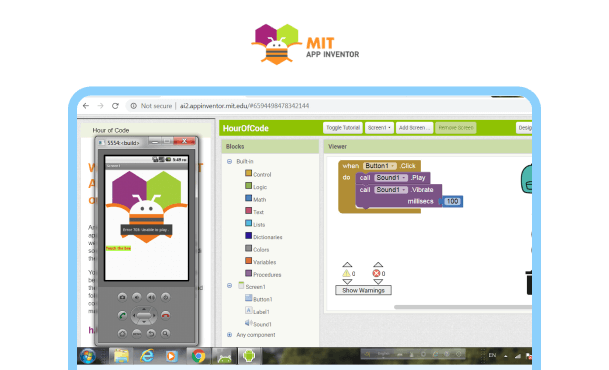 MIT App Inventor teaches you to create Android-based apps using visual programming. They teach you the fundamentals through video tutorials and courses. This is a great website for kids that want to learn building complex apps.
The courses are all available online and have been curated by experienced teachers that explains in detail – functionality of using the program, building beginner & intermediate apps, as well as learning the basics in Java Programming.
Check out their beginner courses here.
Appy Pie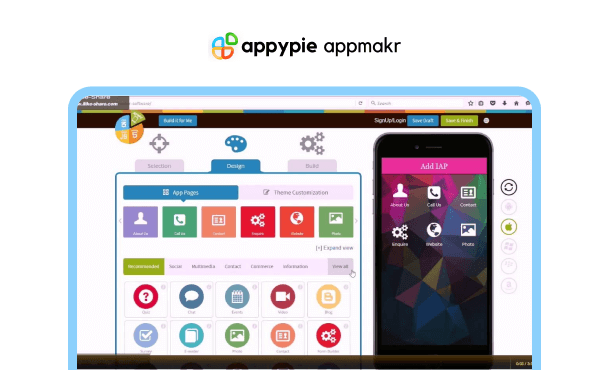 Appy Pie is a no-code platform that is perfect for beginners that want to learn the basics of app development. You are not only taught how to build apps but are also taught how to create apps that sell.
You can build both iOS and Android apps using Appy Pie. But if you want to publish any of those apps then there is a fee attached. Nevertheless, you do get to learn creating the apps free of cost.
Build a restaurant app using this tutorial.
Websites for kids to learn web development
Codeacademy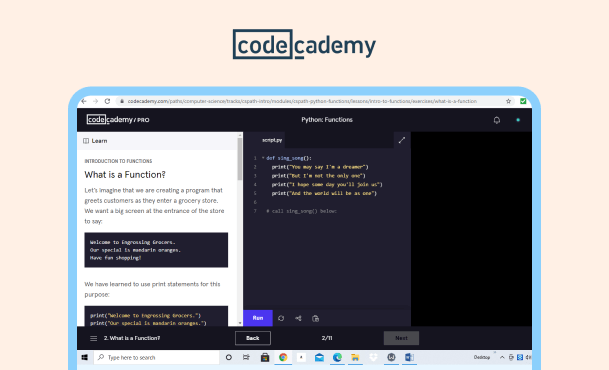 Codeacademy offers comprehensive courses on web development and other programming languages. Kids can choose to learn a variety of languages – Python, JavaScript, Ruby on Rails, HTML, CSS, etc.
There are two tracks to choose from – the free track and the pro track. In the pro track, you get access to a personalized learning plan, quizzes, projects, live instructors, etc by paying a subscription fee.
Explore Codeacademy's free courses catalog.
Code Avengers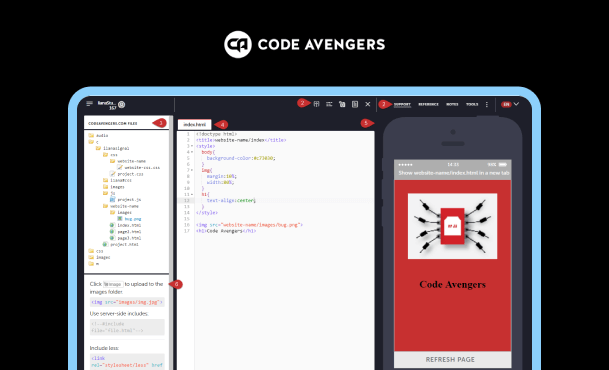 Code Avengers is a website that contains text-based tutorials on web development. Kids can learn at their own pace. You are taught basics of coding, web development, Python, HTML/CSS as well as JavaScript.
Kids can unlock achievements and track their progress on their dashboard. You also get the opportunity to debug your code and complete challenges to assess your progress. And in case, you have any issues – you can connect with the support team as well.
Check out the learning journey for the junior program.
Glitch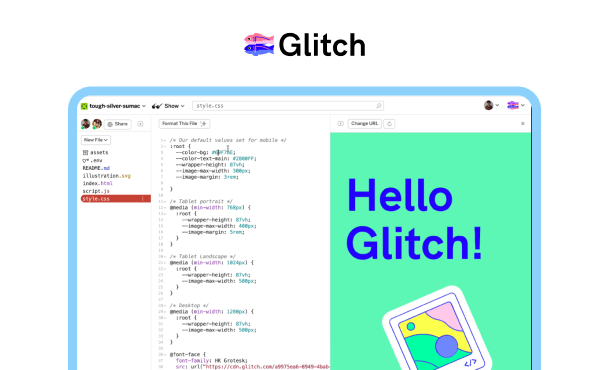 Glitch is an online collaboration platform that helps kids create web apps. It is predominantly used by older kids to make apps using text-based languages and different frameworks. If you are looking to build complex apps and need help from fellow coders, this is just the website for you.
The tools provided are simple yet powerful and allow developers to view their changes as they type in the code. No need to worry about servers and setup. You can write industry-level code using the resources available to you.
Get started with Glitch right away.

Make your child fall in love with coding
As you can see, there are plenty of educational websites for kids to learn new skills.
However, online resources for kids only go so far when it comes to effective learning. The best way to teach a child new skills is through interactive, engaging, and personalized learning.
Codingal is an online coding platform that teaches kids programming and lets them choose their specialization including game design, app development, web development, and more.
Codingal offers curated, personalized programs for kids based on their interests and abilities. Kids can learn at their own pace and on their own schedule. All classes are taught in live online classes with expert coding instructors.
As the child advances in their learning journey, they take engaging quizzes and work on innovative projects, and unlock certificates for their achievements.
Check out all the available coding for kids courses at Codingal.
Happy learning!